The following text is a shortened version of the keynote speech given by Katrien De Graeve at the launch event for the Research Network of Singlehood Studies that took place on 16-17 December 2019 in Tampere.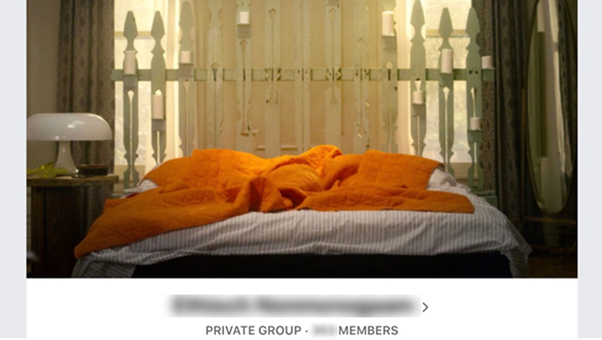 A picture of a bed, with a romantic, wooden headboard with candles, and covered with orange blankets, has been used as the FB cover photo of a small Belgian non-monogamy advocacy group. The bed is not just any bed. It is Nola Darling's 'loving bed', the centrepiece of the apartment and life of the main character of the Netflix series She's Gotta Have It. The series (2017-2019) is the remake of Spike Lee's 1986 film on a single woman artist, who is having relationships with three men, and at some point, also with a woman. Each of them fulfils some of Nola's desires, but she refuses to commit to any of them and prefers her independence.
The advocacy group was founded at the time that I was conducting ethnographic research on consensual non-monogamy in Belgium (end 2017). Its founding was part of the then proliferation of small non-monogamy groups that aimed to cater to non-monogamous folks who felt their interests and needs were not entirely met by the existing polyamory groups. People who set up new groups were often dissatisfied with the term polyamory or found the term did not entirely cover their sex or relationship philosophy. This was also the case with this group. Instead of a focus on love, the group's common ground was a relationship ethics centralized around negotiated consent. Its choice for Nola Darling's bed as its emblem was clearly not a random choice and was inspired by the group's aim to advocate for casual sex identities in particular. The picture of Nola Darling's bed serves as a symbol for a sex-centred lifestyle. Nola also represents a nonconformist behaviour with regard to gender and sexuality. She calls herself 'pansexual'[i], while the heterosexual relationships in her life seem to play the leading part; a figuration that might also add to the image of the group as open-minded, while not disrupting heterosexual scripts all too much. In addition, Nola being a black woman also contributes to the group's self-image of a progressive, anti-racist, egalitarian group, although the group is nevertheless almost exclusively white.
But what is most important: the use of the picture underlines the groups' appraisal of the single polyamorous lifestyle (in polyamory circles this is often called solo-poly or poly-singlish) The solo-poly lifestyle was often seen by people in my study as a rebellious stance against oppressive hetero-patriarchal relationship systems: the archetypal solo-poly woman not only refuses to romantically commit to only one partner, she is also sexually explorative and refuses to lose her position of a free agent for instance in terms of housing and finances. Several of the women in the advocacy group told me that they saw active sexuality as a liberating radical resource for women to resist mainstream notions of passive femininity and of female sexuality as emotion driven. The power of the image of Nola, who is an autonomous, sexually active actor, should not be underestimated, in particular for women who are inevitably held to a sexual double standard and in the patriarchal hierarchy have often been made dependent on men. The figure of the solo-poly woman also seems to offer a solution to the gendered inequities in the division of housework through the woman's refusal to live together with her romantic partners. As she lives independently, she seems more likely to avoid her care labour being exploited within heteronormative structures: the woman's sexual needs are being met, while she refuses to perform her part of the traditional sexual contract (i.e. doing housework or care labour for her partners).
She's Gotta Have It, the film and series that glorifies an autonomous and promiscuous lifestyle, nevertheless received extensive criticism by feminist critics. bel hooks for instance argued that She's Gotta Have It is not the feminist story that it claims to be, but presents a version of female sexuality inspired by stereotypical male fantasies.[ii] Also, more recent critiques point to the narrowly defined notion of sexual liberation that the film and series propose, centred around the main character's identity of someone who is sexually attractive to men, likes to have sex with men, and is very good at having sex with men. These critiques chime with earlier comments that questioned the notion that body and mind can be separated, and that this separation, for instance through sex uncoupled from emotional expectations, is necessarily liberating.[iii] This construction has historically been a highly gendered one, with men in particular assumed to be able to separate themselves from their bodies, and emotional stoicism expected from them. Women, conversely, have traditionally been seen as being responsible for emotional work and being unable to escape from their bodies and emotions. Although the discourse of active sexuality provides women with a strategy of escaping gendered expectation, it constitutes a narrow and partial view on sex, in which not all women (or people of other genders) find satisfaction.
The potential of Nola's character in offering a radically new understanding of the intimate and social life is also being questioned on the ground of her commitment to an ideology of choice, autonomy and self-management. While Nola's refusal to commit to any of her male partners can be read as a strong stance against heteronormative assumptions and patriarchal care models, Nola's character seems to equate being liberated to being independent and self-reliant, and treating other people instrumentally. The narrative perfectly fits the ethos of our neoliberal age, which values independence and the individual freedom to make one's own choices above all else. It fails to offer a strong counter-narrative to the neoliberal ideology that aims to turn us into highly individualized, responsibilized subjects, 'entrepreneurial actors across all dimensions of [our] lives'[iv] and in which being dependent on others or having care needs has come to be seen as a personal failure, rather than as a human condition.
In the non-monogamy communities I observed, an ambiguous discourse concerning responsibilities to care for others prevailed. On the one hand, the polyamory account praised people's infinite potential to love and to commit to many people at the same time. This conveyed an image of poly-lifestyle as a lifestyle grounded in infinite love and care for each other. On the other hand, a strong reliance on individual subjectivity produced a view on care and emotional work as something the other does voluntary and out of free will, and, consequently, something one can never expect. The prevailing discourse prescribed that relationships should not be based on (traditional) expectations, but on the negotiation between (equally) autonomous individuals, in which every individual is responsible for their own care. This account fails, however, to take into consideration people's unequal classed, raced, abled, and aged positions that affect their needs and financial and other vulnerabilities, and shape their power to negotiate care agreements. Nola Darling, the young, slim, perfectly looking, middle-class, woman without any care responsibilities to others, centring her life around her art and even more around her exciting and liberating sex life seems to be a fairy tale figure in comparison to the solo-poly women in my study, who struggled financially, sometimes lived in sheer poverty, had to care for in-living children, had to go through struggles with their ex-partners, or were worrying about growing older while lacking committed relationships. A glorification of singlehood that ignores the socioeconomic inequalities that typically disadvantage women and other subordinated groups, is not likely to radically challenge the social stratification of society, nor to resist self-entrepreneurial and consumerist neoliberal imageries.
What is needed, is a queer-political ethics of destabilisation. This suggestion agrees with Eleanor Wilkinson's proposal to move beyond sexuality, and to attempt placing our discussions about relationships and cohabitation into wider critiques of capitalism, in seeking 'wider political affinities', which 'could be found in practices such as communal housing, caring, non-sexual cohabiting, single parents, and all those who are discriminated against by state policies that refuse to give recognition to anyone whose bonds fall outside the normative romantic couple form'.[v] She proposes 'that polyamory may be more fruitful if we redefine it to include not just many lovers, but many kinds of love: maybe then polyamory could be truly inclusive, and potentially revolutionary'.[vi]
This revolutionary potential I found, for instance, in the story of Stella, one of my interviewees. As a single polyamorous lesbian woman in her mid-thirties, for the last ten years Stella had consistently lived in community houses and co-housing arrangements. At the time of the interview she was parenting three children (one of them her biological child) with her female ex/partner (who had another apartment in the co-housing arrangement). Her life story showed a continuously changing network of multiple adults and children to which she feels connected and with whom she has different kind of relationships and commitments (that of housemate, lover, ex-lover, friend, parent, co-houser, etc.). The ways these various categories are shaped in her interactions with others tended to defy traditional assumptions and was subject to change and reinvention. This critical and questioning attitude was fuelled and informed by her active involvement in left-wing feminist and queer activist circles. Instead of centralizing her sexual or romantic relationships, she situated herself within a much more complex set of relationships. Instead of sexual freedom, she consistently foregrounded the importance of a whole set of care relationships (in which she figured both as caregiver but also the one who is cared-for).
Sarah Ahmed says that to make things queer is to disturb the order of things.[vii] Following this definition, the queer ethics that I envision is an ethics that aims to subvert, not only the conventional relationships scripts, but also the socioeconomic status quo. A queer-political ethics aims to fundamentally change society and the inequalities on which it is based. It is an ethics of destabilization that, if not uncoupled from politics, 'opens space for thinking about power within and in relation to different structures and systems of belonging'.[viii] Only an ethics which is not 'regarded as free of power dynamics, including those pertaining to gender', can become a space of political contestation.[ix] Such an ethics of destabilisation includes disrupting the ideal of the entrepreneurial, invulnerable subject that penetrates our body and minds to serve contemporary capitalist economy. It also includes shaping critical awareness of the power relations and exclusionary discourses that underlie neoliberal rationalities. A queer-political love ethics includes work of deconstruction and reconstruction and merges an ethics of destabilisation (destabilisation of the status quo) with an ethics of care and solidarity in shaping our intimate lives. It is this kind of ethics that might contribute to the feminist attempt to produce a better and a radically equal world.
---
[i] Having sexual or romantic attraction towards people regardless their sex or gender identity.
[ii] hooks, bell (1996) "Whose Pussy Is This." A Feminist Comment. In b. hooks. Reel to Real: Race, Sex, and Class at the Movies. New York: Routledge.
[iii] E.g. hooks, bell (2004) The Will to Change: Men, Masculinity, and Love. New York: Atria Books.
[iv] Brown, Wendy (2003) Neo-liberalism and the end of liberal democracy, Theory and Event, 7(1), 1–43; p.38.
[v] Wilkinson, Eleanor (2010) What's Queer About Non-Monogamy Now? In: Meg Barker and Darren Langdridge (eds.), Understanding Non-Monogamies. London: Routledge, p.252-253
[vi] Ibid, p.253, italics in original.
[vii] Ahmed, Sara (2006) Orientations: Toward a queer phenomenology. GLQ: A Journal of Lesbian and Gay Studies, 12(4), 543-574.
[viii] Willey, Angela (2016) Undoing Monogamy: The Politics of Science and the Possibilities of Biology. Durham: Duke University Press, p.96.
[ix] Gilson, Erinn (2013) The Ethics of Vulnerability: A Feminist Analysis of Social Life and Practice. Taylor & Francis, p.10
Katrien De Graeve is an associate professor at Ghent University (Belgium), affiliated to the Centre for Research on Culture and Gender. She is the recipient of an ERC starting grant for her project 'Later-in-Life Intimacy: Women's Unruly Practices, Places and Representations' (2020-2025). She obtained a PhD in Comparative Sciences of Culture (Anthropology) from Ghent University in 2012 and she worked as a postdoctoral research fellow, both for the Research Foundation Flanders (2013–2019) and the Helsinki Collegium for Advanced Studies (2013–2014). Her research focus so far has been on transnational adoption, guardianships for unaccompanied minors and non-monogamous sexual-romantic relationships.